Going deeper with digital and data
Digital services and more effective use of data are key to providing responsive government, and while digitalisation is the new norm, confidence that technology is being used to drive the best policy solutions has fallen. Just two in five leaders (40 percent) agree that digital technologies are fully embedded in policy making and service design.
A key cause for this perceived lack of utilisation appears to be financial – only 42 percent of senior civil and public service figures agree that funding is available for long-term investment in digital transformation.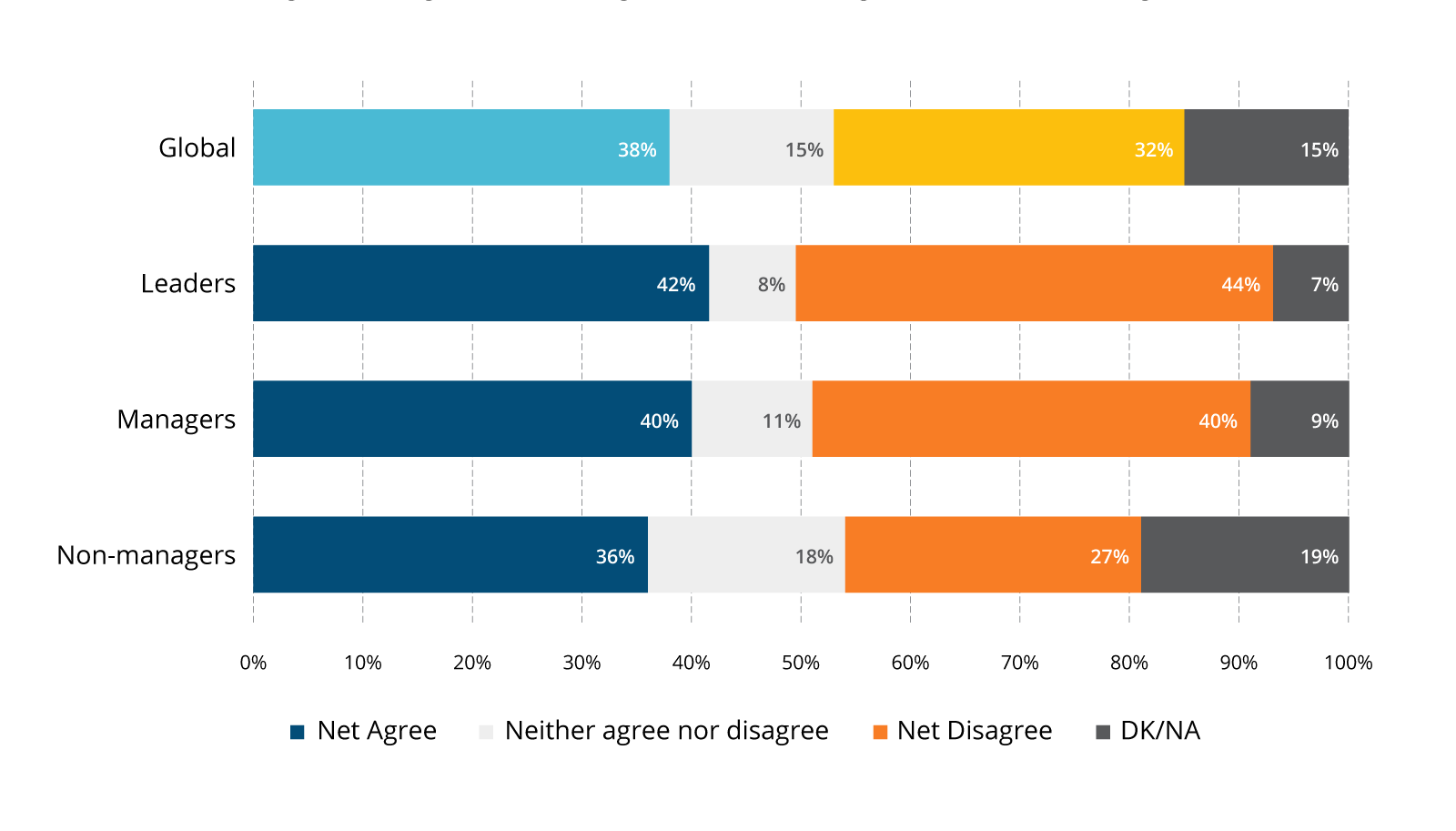 A further factor is knowledge. Just over half of respondents say their leaders have sufficient digital understanding. While leaders themselves are more confident about their understanding (55 percent), senior managers and managers have less faith in their bosses (49 percent).
Less than half of respondents from the US, the UK, and the Netherlands have confidence in their leaders' digital understanding. There is most confidence in leaders' digital understanding in Denmark (70 percent), with majorities in Australia, Canada, New Zealand, Sweden, and Norway.
Public sector expert Kim Lindskov Knudsen explains that Denmark has been at the forefront of digitalisation for several years. However, organisational constraints are impacting progress.
"Exploiting the potential of digital and new technology demands a profound change in our administrative approaches and service delivery models. We are entering a more radical need for change driven by, for example, AI support for decision making in diagnostics, and telemedicine as a new way of delivering health services."
Grete Kvernland-Berg, public sector expert and head of PA in Norway, explains that infrastructure is key.
"In Norway, the first choice is digital. We have a single sign on system and that's a very important part of the infrastructure. Using my bank ID, I can log in to all public services, applications, tax papers, everything. This code gives me access to my health page, my government health page, and it gives me access to telehealth as well. So, it's fairly easy to introduce digital citizen services. The single sign on is run by a private provider in Norway, but it's owned and sourced by the government."
Although funding and understanding pose concerns for digital transformation, governments have embraced digitalisation and improved their responsiveness as a result. COVID-19 supercharged the need to provide digital services, including vaccination bookings, booster reminders, and mobile COVID-19 passes. This is reflected in the survey results, with over half of civil and public servants across the nine countries saying that the response to COVID-19 made government more flexible and responsive. In particular, two thirds of officials agree the pandemic accelerated progress in digital capabilities – in contrast to areas like the time taken to implement new policies or ideas, where only around one third (37 percent) of respondents say it made a difference.
Post-pandemic digital transformation is particularly notable in Nordic countries, with 80 percent of respondents in Sweden saying that the response to the pandemic has quickened digital capability development, and 73 percent saying the same in Norway. However, one public service manager from Sweden identifies a need to change the laws and regulations that currently prevent their organisation from being responsive to customers – with information-sharing a prime example.
In all countries bar the US, over half of all respondents say that the pandemic response has improved digital capabilities. The US percentage is considerably lower at 43 percent.
Next steps for responsive governments
To maintain momentum and bring people on board, governments globally need to strengthen digital infrastructure and services. This means:
Further integrating digital and data utilisation while ensuring those with lower digital literacy are not left behind – one leader in the Canadian public service calls for faster transition to digital solutions and accelerated support for online service provision
Exploring innovative techniques and systems to revolutionise services, such as AI and machine learning
Conducting pilot studies and representative test groups to assess feasibility, e.g. app-based solutions and new digital pathways for government services
Improving access to funding to support digital transformation, which, according to the majority of senior-level officials, is currently not available
Upskilling personnel at all levels to use technology effectively, in addition to understanding digital transformation.